Sunset Seekers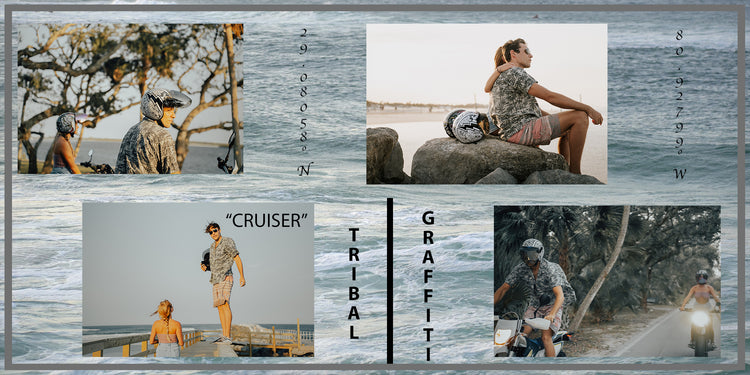 Embark on an exhilarating adventure to a secluded inlet off Daytona Beach, Florida coast with Maxx and Angela. Equipped with the stylish and protective Daytona Cruiser, they set out to chase the sun, create unforgettable memories, and rip some wheelies.

Bathed in the warm glow of the mid-summer Florida sun, Maxx and Angela rev their engines, ready to conquer the inlet's sandy golf cart paths. By wearing the Cruiser helmets, they can rest assured to avoid coconuts falling on their head while showcasing their unique designs. As they embark on their thrilling ride, their eyes remain fixed on the captivating sunset. While navigating through the inlet's hidden pathway becomes a thrilling dance as they maneuver between towering palm trees and conquer rolling dunes.

When they ride along the picturesque shoreline, the sun begins its descent, casting a gnarly glow over the waves breaking. The vibrant colors of the sunset create a backdrop that beautifully complements their helmet choices, heightening this peak of a moment.

As the sun dips below the horizon, leaving behind a trail of warmth and serenity, Maxx and Angela cherish the place they get to call home. Their Cruiser helmets have been their trusted companions throughout their inlet adventure. These helmets ensure their safety, enhance their style and connection to the freestyle culture. This unforgettable journey serves as a reminder of the endless summer nights that await those who dare to chase their dreams, celebrating the open trails captured in the remarkable D.O.T. Daytona Cruiser helmets.